Welcome to our customer support newsletter! We have been busy, with this month's newsletter featuring contributions from the technical team. If it is not rendering correctly or you missed an earlier newsletter, all previous newsletters are located here.
Follow us!
In addition to the support newsletter, be sure to follow us on your favorite social media channel, LinkedIn, Twitter, or Facebook. We provide product-related updates, pertinent articles, webinars, and videos there. This newsletter is targeted at existing customers and provides general product-related updates. There is still a lot more to know about us!
Monthly Updates
Instead of a product update, this month's issue contains contributions from three members of our team, who share their thoughts on our products and on industry trends. Arthur Abramov, Support Manager, talks about his favorite product feature: Navigator's Environment Level. Terry House, i2M Solution Specialist, bids farewell to Microsoft's once-ubiquitous Internet Explorer and reflects on the changes that have shaped our product line, from the legacy M6console to the modern dashboard layout. Vice President of Technology Services Scott Corrigan highlights how our customers are expanding the scope of our products' applications' integration infrastructures (i2).
How to Set the Environment Level
By Arthur Abramov
On the Environment Level tab located on the Global Settings window, administrators can help users identify which environment they are using by adding a label next to the Navigator logo, as shown below. You must have the Manage Environment Level right to perform the actions described in this article: Environment Level.

Rest In Peace, Internet Explorer. Long Live XRay!
By Terry House
With Microsoft's announcement of the end of support/life of Internet Explorer (IE) on June 15, 2022, they effectively ended the use of any web based user interfaces (UI) that relied on the Java plug-in. Modern browsers such as Edge, Chrome, Firefox, and others do not support the Java plug-in due to potential security breaches. This was a known issue for many vendors, including us. Our legacy web UIs, AutoPilot on Demand for MQ (APODWMQ) and the M6console (a view only, web-based version of the Enterprise Manager) needed to be replaced.
APODWMQ was replaced several years ago with Navigator, an HTML-based web interface that is browser independent. It supports multiple integration infrastructure (i2) technologies such as IBM MQ, IBM IIB and ACE, TIBCO EMS, Apache Kafka, and Solace, with more on the way. It provides a secured, self-service, "single pane of glass" tool for managing the i2.
The M6console was also in need of replacement. Rather than doing a long and extensive rewrite of this legacy web UI, we decided to add the functionality to our XRay solution last year and leverage the XRay HTML-based web UI (Resource Center FAQ: Do I need the M6Console web application?, March 2021 Newsletter). Using the XRay interface, we provide a dashboard with viewlets and drill downs for our out-of-the-box IBM MQ policies and sensors. Users can use these as a sample to create their own dashboards and viewlets for their custom policies and sensors. The XRay web UI provides a browser-independent, HTML-based interface to view your AutoPilot policies and sensors with the same look and feel as Navigator. By adding this functionality to XRay, users are now capable  of incorporating policy/sensor viewlets (or other XRay viewlets) into a Navigator dashboard, providing a single interface for users to manage and view the status of their i2 infrastructure.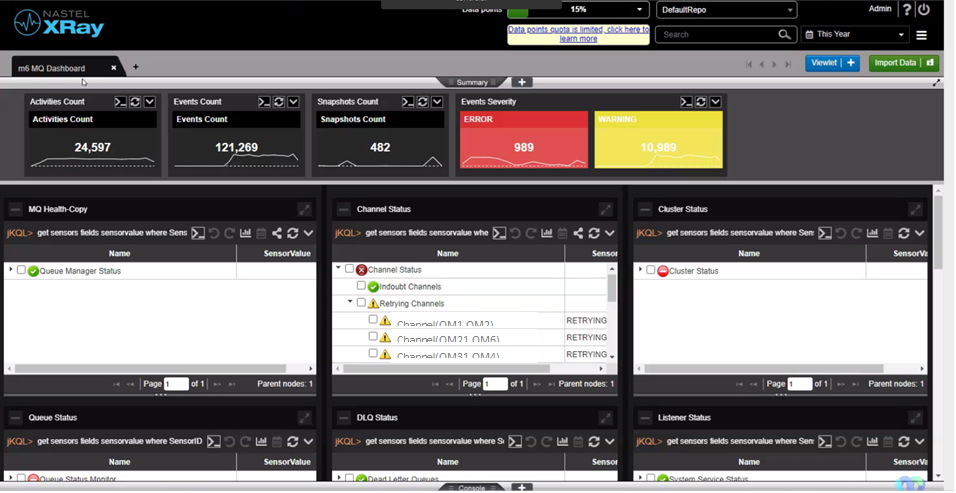 Explore the Possibilities
By Scott Corrigan
Many of our customers have been using our solutions for several years for administration & self-service, real-time monitoring & alerting, analytics & observability of middleware technologies such as IBM MQ or TIBCO EMS.
But today, a growing number of our customers are capitalizing on the extensive capabilities of our solution to manage a broader scope of integration technologies, such as RabbitMQ, ActiveMQ, Solace PubSub+, and Kafka.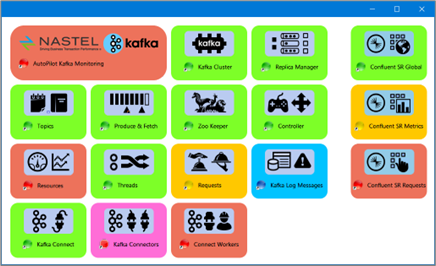 Our solution offering for Kafka is expanding with each new release, and our current capabilities in management, monitoring, and analytics have extended to embrace Kafka Connect and the Confluent Platform.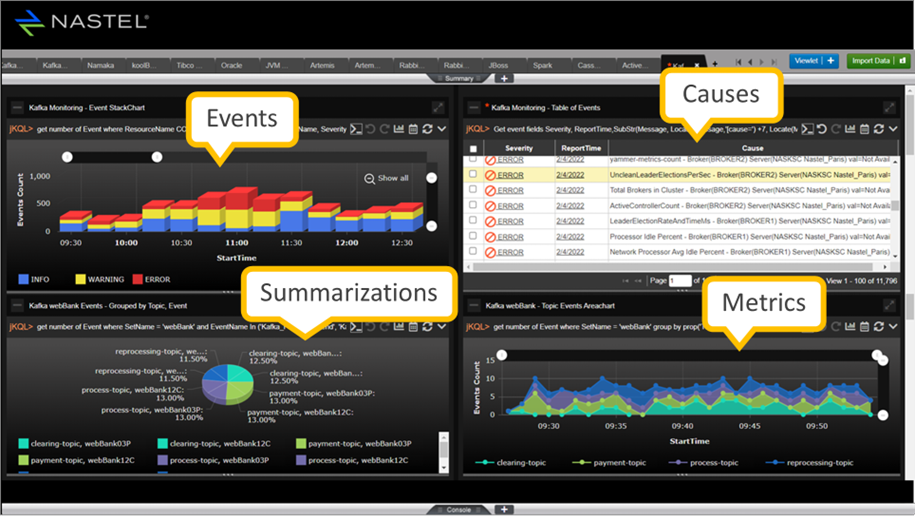 G2 Review Request - Share Your Insights
Thanks to your feedback, we're proud to say that we are now the top-rated middleware management solution on G2. Adding your perspective will help others pick the right solution based on real user experiences. We are offering $50 per review as a thank you for the few minutes it takes. Click here to review. You have the option of doing this anonymously. Only a small number of questions are compulsory.
FAQs
Back in February, we offered tips for what to do if you don't see the data that you expected in your viewlets. Our focus was on the importance of finding out whether a viewlet's data has been filtered.
This month, we'll look at scenarios in which the application doesn't appear to be working as expected.  When an action you've taken doesn't display the expected behavior, sometimes a simple tweak is all that is needed.
Working with XRay Charts
Charts help distill complex information into a form that's easy to understand at a glance. Here are some common issues that can trip up users who are just starting to try XRay charts.
"The result cannot be plotted as line chart." This error simply means that the data in the query cannot be represented as a line chart.  Review the data that is being supplied.
Read the FAQ for some common causes of this issue.
"Invalid "show as" type." This error message indicates a problem that's similar to the one described above. XRay is unable to respond to the request using the information provided. To display data as a chart, be sure to enter a valid chart type.
Check out this article for a list of valid chart types.
Saving messages to a file
You've tried to save messages to a file from Navigator, but no file has been created. To be able to create the file, Apache Tomcat® must be configured properly.
Read this FAQ to learn about requirements.
Webinars & TechTalks
OnDemand Webinar featuring Forrester: Total Economic Impact of Nastel's Integration Infrastructure Management
You can watch the replay of this month's very popular webinar. It detailed a real customer story, based on a Forrester study, of the ROI achieved for MQ, Kafka, TIBCO & IIB Management.
In the webinar featuring Forrester: Total Economic Impact of Nastel's Integration Infrastructure Management, you hear from:
A Forrester consultant on how Forrester developed its findings based on an actual customer deployment
Nastel on why companies are choosing Nastel to manage and monitor their integration infrastructure securely
Get the study - compliments of Nastel!
Podcast - i2M
IBM's Exclusive Interview with Sam Garforth, in which he discusses the need for dedicated Integration Infrastructure Management.
Click HERE to see our library of other on-demand sessions.
Nastel's News
Nastel Recognized As Top 10 Banking Tech Solution
Nastel is very proud to be recognized as a Top 10 Banking Tech Solution Provider for 2022. This reflects the importance of integration middleware throughout finance organizations. As David Mavashev says,
"The Nastel Platform helps the business as a whole. Business users and others including middleware admins, application developers, operations, and support groups are amongst the users and beneficiaries."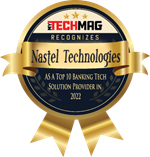 Click here for the full text of the magazine article.
Future of AIOPs for Businesses
#FOAI2022
Date: 10th November 2022

We will be sponsoring the Future of AIOPs for Businesses virtual conference on November 10th, 2022!
AIOps systems integrate big data, machine learning, and analytics to improve IT operations by providing proactive and personal insights through monitoring, automation, and service desk tasks, while also allowing the usage of numerous data sources and data gathering methods. AIOps can reduce the expenses associated with IT concerns by providing faster remedies to outages and other performance issues.
To read more news, click HERE.
Our Blog
Please read and share these recent blogs which we believe will be of interest to you.
Click HERE to read our blog.