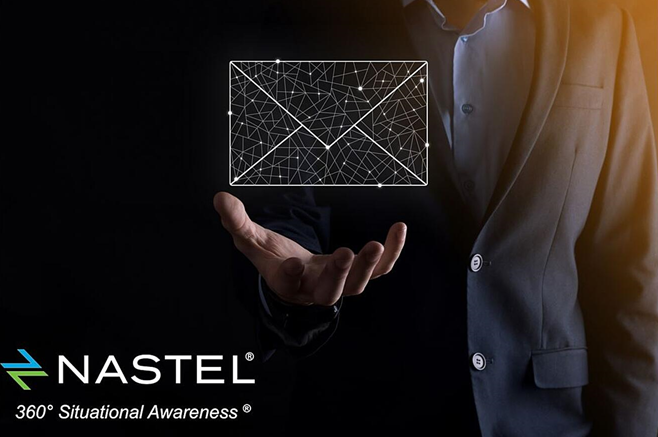 Welcome to August 2021
Welcome to Nastel's support newsletter!
Missed an earlier Newsletter? Previous newsletters are located here.
Follow us!
In addition to the support newsletter, be sure to follow Nastel on your favorite social media channel, LinkedIn, Twitter, or Facebook. We provide product-related updates, pertinent articles, webinars and videos there. This newsletter is targeted at existing customers and provides general product related updates. There is still a lot more to know about Nastel!
Table of Contents
1. Updates
Streaming queues in IBM MQ 9.2.3
By now, you have probably seen the announcement for IBM MQ 9.2.3. The first thing to mention is that Nastel had support for 9.2.3 right away. We work with the IBM teams to ensure we are ready for any new releases and changes. This newsletter won't go into details of all the enhancements included but will focus on one, in particular, streaming queue. As a quick summary, a streaming queue allows you to define an alternate queue to which every message sent to the original is duplicated.
The image below is just a simple example of the basic concept. There are 2 queues: MyQueue and CopyQueue. As messages are put to MyQueue, MQ Automatically makes a copy in CopyQueue. So in the example, messages A and B are put to MyQueue by the application. As each message is put, the queue manager automatically makes a copy in the CopyQueue. As the messages are read by the receiving application, the copied messages remain. You can select whether the put is required or optional (such as if CopyQueue gets full). The current limit is 1 stream queue per primary queue although the streaming queue could be a topic.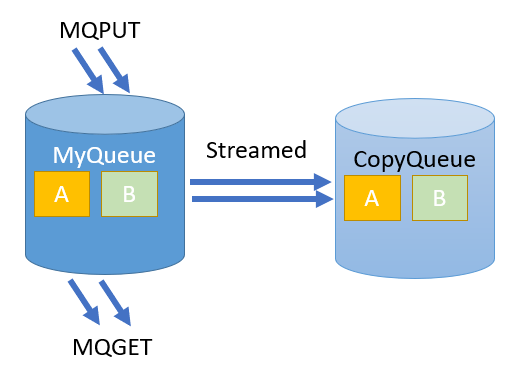 There are many different use cases for streaming queues. For example, if you wanted to create an audit trail for all activity through the queue. Another case would to be create an alternate workflow for the messages.
However, the use case that is very attractive from our perspective is the ability to access the data flowing through the queues. This might bring to mind Application Activity Events which are commonly used with Nastel XRay to track messages. Activity events are good for tracking activity and can be used to get payload and are a good option in many cases. They are best for tracking the application calls and when messages were put and received. With streaming queues, you get the raw data directly from the source, not a reformatted message to process. Since messages contain the business information, you can now answer questions like "how many orders today were greater than 1 million dollars?" Well, you can if you have a way to collect this data. Nastel XRay is specifically suited for this as well. By listening to your data, you can get various data and related insights without having to make any application changes.
This ability has existed when topics are used including in IBM MQ and Kafka, but for traditional MQ applications that use queues, this creates a new avenue to get insight.
2. Popular FAQs and Articles
Using Favorites in Nastel Navigator to quickly view objects of Interest
Favorites allow you to organize objects that you have quick access to. This short video covers how to set up and use favorites.
Using the REST API for automation
Many companies are looking to automate their middleware environment. The REST API provides the ability to query, create and change all of the objects managed by Nastel. See this FAQ for a sample walkthrough using Nastel Navigator.
How do I set up Nastel XRay in iOS and Android?
The installation, setup, and usage are similar in both iOS and Android with minor variations due to the underlying architecture.
3. XRay COVID-19 Data Lake
Nastel has pulled together multiple COVID-19 datasets from CDC, Johns Hopkins University, and several others into a single interactive data lake on which you can:
Run your own queries & computations
Create analytics & web dashboards
Share your charts & graphs in web apps
The data lake is updated daily with the latest COVID-19 stats from around the world. View the dashboard live, no registration required!
COVID-19 Data Lake Registration
4. Webinars & TechTalks
We have several exciting upcoming and OnDemand webinars! To register for our latest webinar and live Q&A on September 15, 2021 at 11am ET, click the title below:
Live Webinar – Frustrated with time-to-delivery for new apps with messaging middleware?
Please click on the links below to view OnDemand.
OnDemand DevOps.com Webinar: Mastering Application Integration Challenges in Hybrid Cloud Environments
"How Nastel Professional Services have helped solve critical business needs (and how they can help me)."
Contact us if you missed this customers-only webinar and want the details.
OnDemand: Informational Alert for Banks Using Legacy Messaging Middleware!
Click HERE to see our library of other on-demand sessions.
5. Keeping up with Nastel
Nastel has just announced the latest release of the XRay AIOps and Transaction & Message Flow Tracking solution and has exciting new things going on all the time. We want to ensure you and your colleagues can easily find our recent press releases and other news.
Click HERE to read Nastel news.
6. Nastel's Blog
Click HERE to read Nastel's blog.