To open a dashboard, first select the repository that the dashboard is located in from the Select a repository drop-down located at the top-right of your screen.
Now that the desired repository is loaded, go to the Main Menu and select Dashboard > Open. Please note, the Open option will be greyed out if there are no existing dashboards.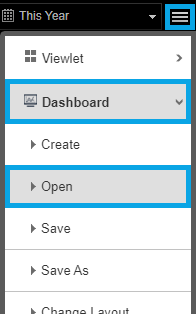 The Open Dashboard dialog box opens. All of the selected repository's dashboards are listed in the Dashboard Name drop-down menu. Note that public and read-only dashboards are symbolized with icons appearing immediately to the left of their names; the people icon

represents a public dashboard, and a lock icon

represents a read-only dashboard (you can hover your mouse over these icons to view their function). Select the desired dashboard and click Open.

The selected dashboard displays on the screen.