The Load Message tab located on the Settings window is used to configure the loading of messages from a file into a queue.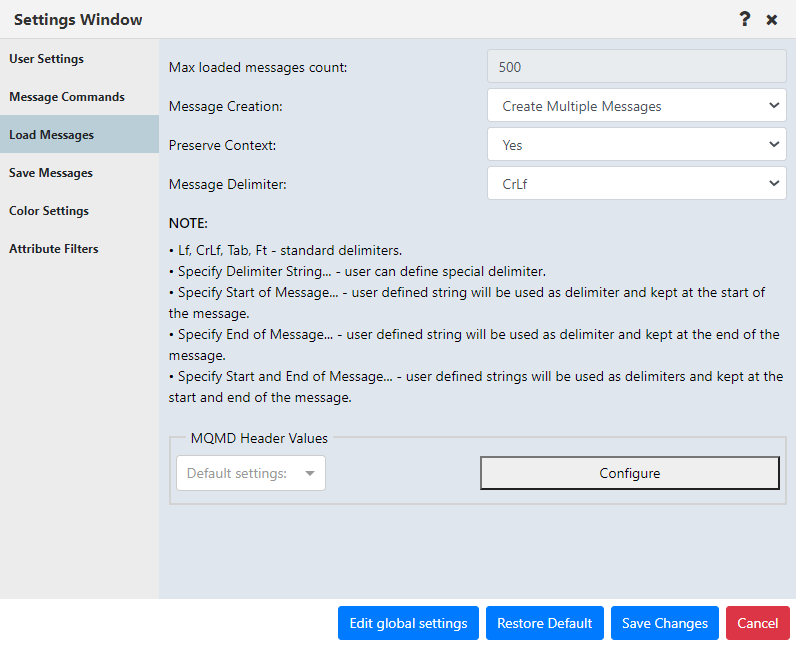 Name

Description

Max loaded messages count

The Max loaded messages count depends on a queue manager's capacity to support a large number of messages.

You must set this value at the global settings level (click Edit Global Settings). The user settings field reflects the global setting; it is for display only.

Message Creation

Specify if you would like a single message created or multiple messages.

Preserve Context

Specify if you would like the message context preserved.

Message Delimiter

Select the delimiter used from the Message Delimiter drop-down list.  An explanation of the options appears immediately below the drop-down.  Please note Ft represents the Form Feed delimiter.

MQMD Header Default Values

Click Configure to view or configure the default Message Descriptor (MD) properties. (Some of these properties are described in the Message Descriptor Properties – General table in Message Descriptor Properties.) If you already have a configuration for message descriptor properties that has been saved through Message Commands (see Filtering messages across viewlets with message criteria configurations), you can select a saved configuration from the MQMD Header Values list to use as a template (that is, a starting point) for changes to the MQMD header values.

You can also make changes to a previously saved message criteria record from here by selecting the record from the MQMD Header Values list, clicking Configure, updating the configuration, and clicking Save Changes, as long as the record is not global or shared by another user (shared records in the list are displayed with a green Shared Filter icon ). When saved, changes to the selected record become the default settings.

Restore Default button

Restores the default settings.