Some of the content described in this article is available in meshIQ Manage versions 11 and greater. See meshIQ Highlights v11 for an overview of feature changes.
Color coding user interface elements lets you quickly determine characteristics of an object at a glance. Color coding of viewlets makes it easier for users to identify the product that a viewlet is associated with, or what type of objects it contains. Color coding of viewlet rows by workgroup server quickly shows you which workgroup server an object is from.
Color coding viewlets
The color appears in a viewlet's header. In the example below, manager viewlets are color coded green.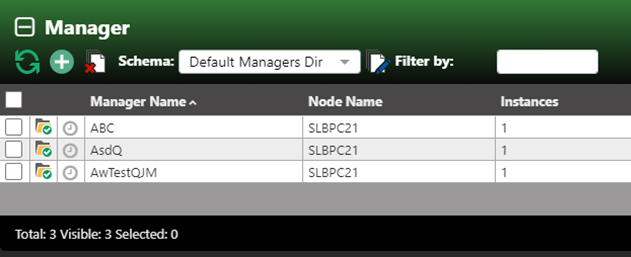 You can configure colors for viewlets as follows:
you can specify one color to represent all viewlets of a product, or
you can specify multiple colors where each viewlet type is represented by a different color, or
you can select a color to represent a single viewlet
See the below sections for information on how to enable and configure this feature.
Activate viewlet color
Click the User Settings icon

located in the tool bar at the top-right of the screen to open the Settings window. On the User Settings tab, enable Show Viewlet's Product's Color. The viewlet color feature is now activated.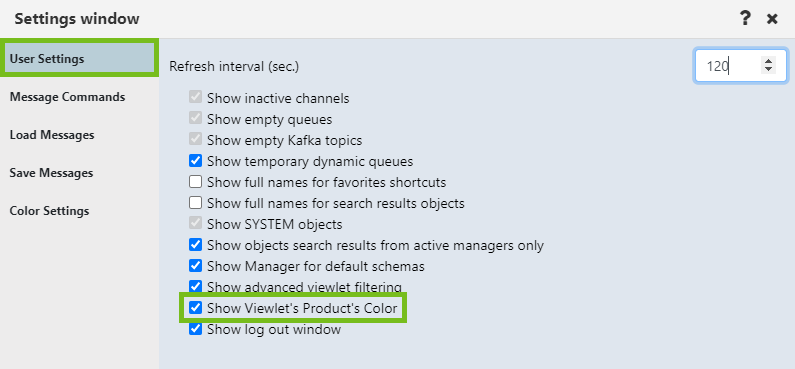 Configure viewlet colors
To specify one color to represent all viewlets of a product
On the Settings window, go to the Color Settings tab.

Select the desired product and click on its color button.
Select a color from the color picker window. You can also enter the desired color's code in RGB, HSL or Hex format by clicking the arrows at the bottom of the color picker window to select the format and enter the color codes.

(Optional.) By default, a gradient is used, but you can select the Flat Color checkbox to apply a solid color, as shown below.

Click Save Changes. From this point forward, all viewlets of the same product type will be represented by the color you specified.
To specify different colors to represent each viewlet type of a product
On the Settings window, go to the Color Settings tab.

Click the expand button for the desired product to view all viewlet types for that product. Check a viewlet type and click on the color button to specify the color for this viewlet type. Viewlet types that are not selected will follow the product's selected color.

Click Save Changes. From this point forward, each viewlet type will be represented by the color specified.
To specify a color for a single viewlet
This is done on the Create New/Edit Viewlet window. Color codes specified on this window will override all color code options selected on the Settings window.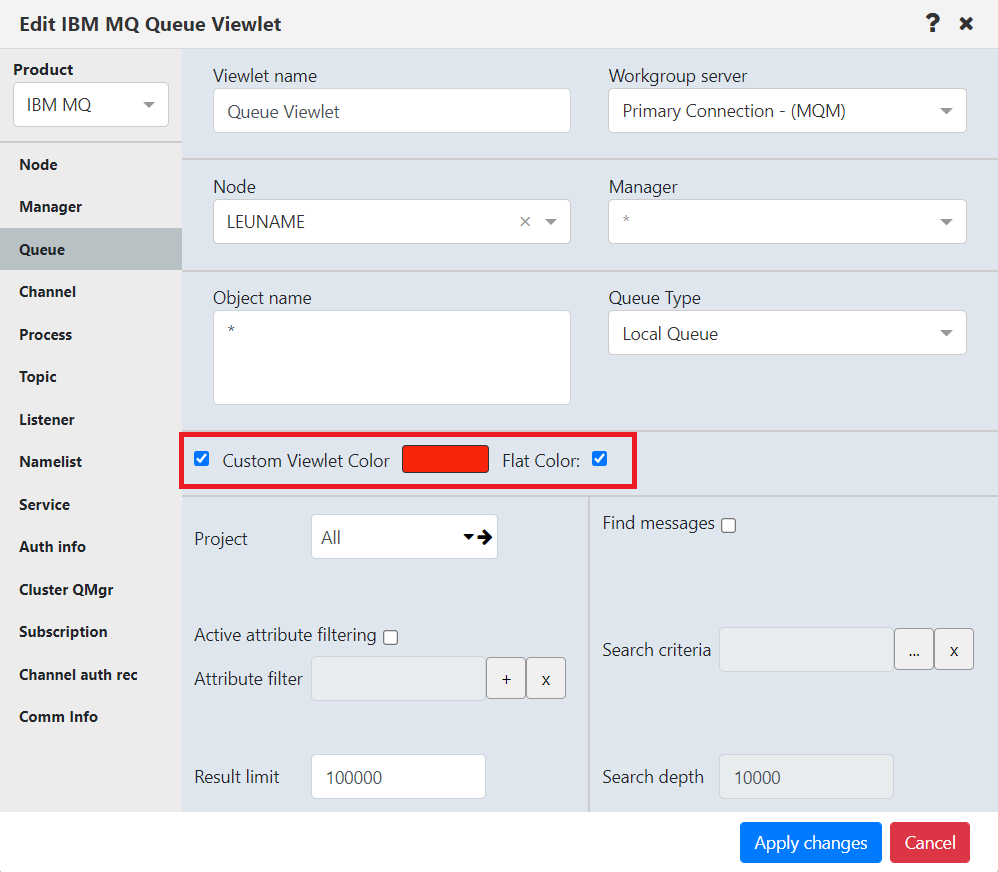 Color coding workgroup servers
Set up color coding
To see color coding by workgroup server, you must make changes in User Settings and in the viewlet.
In User Settings (or Global Settings, for all users), make sure you have selected the Show Color For WGS Connection In Viewlet checkbox. You can also choose these other settings:

Turn On Multi-Selection by Default: When you are editing viewlets, turning this setting on selects the Multi-Selection checkbox by default so that you can select more than one workgroup server.
Display Grouping In Connection Selection: If Workgroup server connection groups have been created, includes connection groups in Workgroup server lists, in addition to individual connections.

On the Color Settings tab of User Settings, the WGS Connection tab allows you to associate a color with each connection. Click the rectangle to select a unique color:


Within an object viewlet, you can choose to show color-coded objects from multiple workgroup server connections by selecting the Multi-Selection checkbox and selecting the individual workgroup servers one at a time. See the Node Viewlet example under Viewing color coding.
Viewing color coding
Workgroup servers
The selected colors are reflected in the Workgroup servers viewlet, as shown below: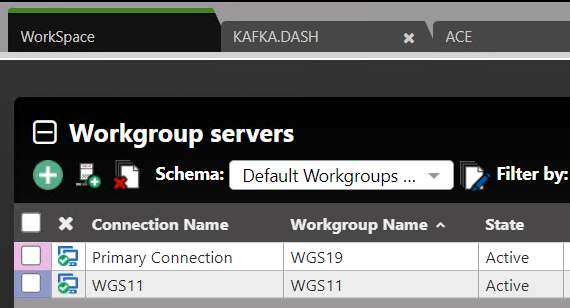 Nodes viewlet example
The example below shows a Node viewlet with nodes from two different workgroup servers (Primary Connection and WGS 11).