Use the nsqmigr utility to export/import workgroup server and node information in bulk. nsqmigr connects to the workgroup server and either inquires (exports) or updates (imports) database data to or from a .info file. You can create backups and restore workgroup server databases with this utility. See the below sections for more information.
Export (get) / create a backup
Run a command similar to the following to export workgroup server databases to a .info file. Be sure to update workgroup_name and filename accordingly.
nsqmigr -g –mworkgroup_name -ffilename.info
For a full listing of nsqmigr's command line options, enter this command: nsqmigr -?
The file is created in the following default export directory with the name specified when you ran the above command. You can override this directory by including a directory path with the -f parameter, for example, -fC:\nastel\apwmq\config\groups\NASTELWGS.info.
[APWMQ_HOME]/config/groups
Exported fields
The fields exported to the .info file are listed in the table below.
Workgroup server level
Node level
Node level
Node level
DiscoveryTime
BroadcastIPNetwork
BroadcastIPPortNo
TraceMode
Description
MaxNodes
MaxClients
MaxQmgrs
AuthRecMode
MaxBrowse
PortNo
EvtDepth
AgentTrace
Authorization
AcctDepth
StatDepth
Refresh
ClntCmdLimit
Uid2Upper
AdtinfDepth
Alias
NodeName
UseDNS
HostName
IPAddress
IPPort
Platform
Discovery
CmdLimit
Timeout
HBInterval
Update
Manage
QmgrMask
LocQueMask
AlQueMask
RmtQueMask
MdlQueMask
ChlMask
ProcMask
NmlMask
ClusQmgrMask
AuthInfoMask
LsrMask
SvcMask
TopicMask
SubMask
ClntMask
Description
NodeType
MaxWtTime
TcpQLim
RetryCount
Uid2Upper
BufferSize
TcpNoDelay
ReuseAddr
ObjNmlsDisc
NodePing
DnsName
QMgrLogPath
QMgrLogMethod
QMgrLogPri
QMgrLogSec
QMgrLogFileSz
QMgrLogBuffSz
AgentTrace
Authorization
NodeOSInfo
NodeCPUCount
NodeMIPCount
Example file
The following is an example of a .info file.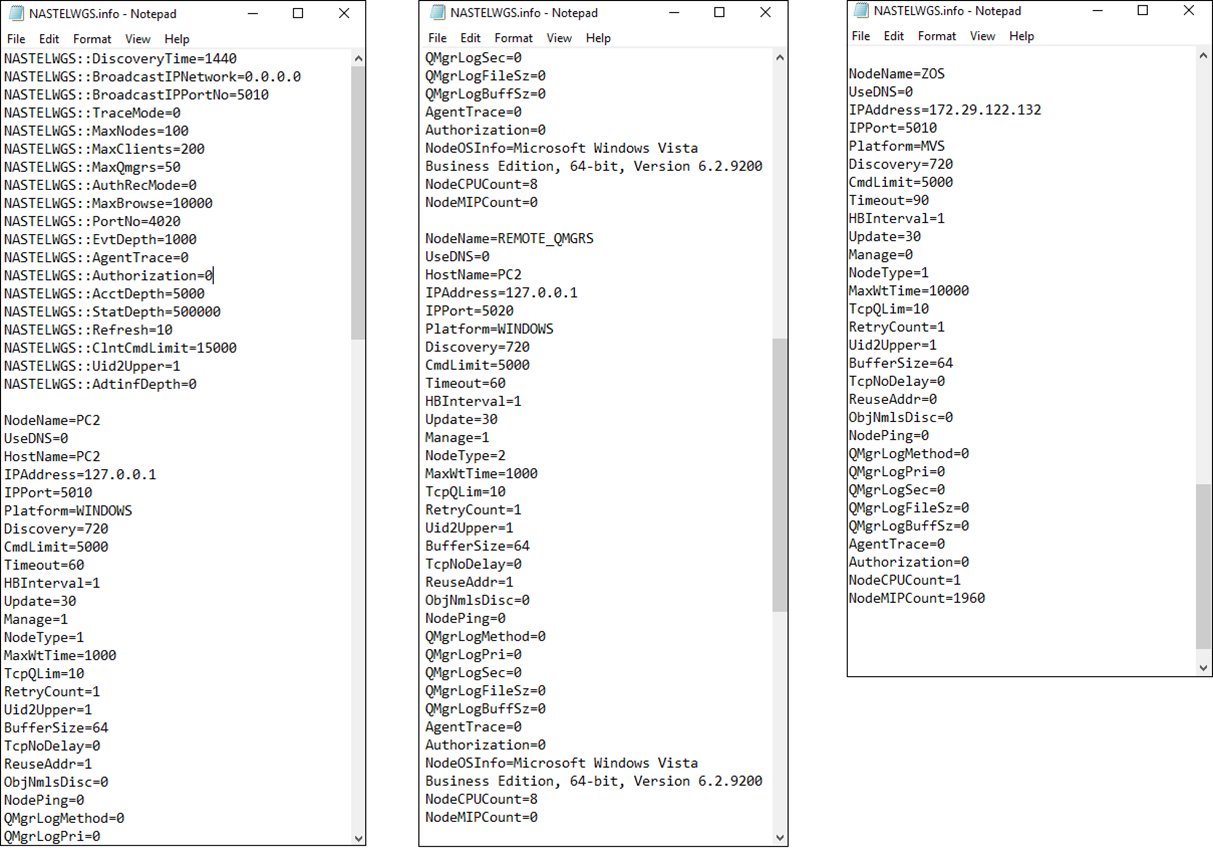 Import (put) / restore
To import workgroup server databases, you will need a .info file. See the above section, Export (get) / create a backup, to create the .info file. Update the .info file as needed and place it in the following location:
[APWMQ_HOME]/config/groups
When the workgroup server is restarted, the file will automatically load and the database will be created/updated. Please note that the .info file is deleted after it is successfully imported, but is first backed up in the following directory:
 [APWMQ_HOME]/config/groups/workgroup/history