When your data is loaded into XRay (streamed or imported from a file), it is placed into a repository. The data is displayed as a collection of customized viewlets grouped into one or more dashboards depending on your needs. Multiple repositories can be utilized.
Load a repository
Click the Repository field on the main toolbar to display the drop-down list of repositories and simply click on the repository you want to load.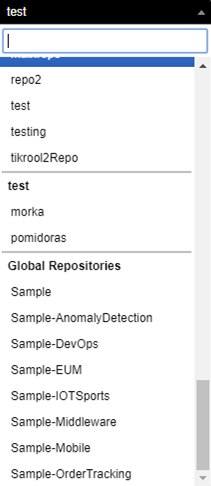 Each section within the drop-down list represents a different organization (the organization name is bold) and its repositories. Repositories appearing under Global Repositories are sample repositories available to all users and contain sample dashboards.
Use the search field to quickly search for a repository by name.
Repository limits
Depending on your XRay license, your data and repository may have limits. The Repository Quota Limit field displays these limits. As seen in the image below, this field is located immediately to the left of the Repository drop-down.

Click the Repository Quota Limit field to view limit amounts for Data points, Stream messages per day and Stream bytes per day. Simply select an option to view the amounts.

When Data points is selected from the drop-down, the data point usage percentage will display for limited licenses. For unlimited licenses, Unlimited will display. This can be seen in the figures immediately below:


Clicking on the green limit bar will generate a Data Points dashboard consisting of viewlets displaying data points of events, activities and snapshots from the most recent week.



Create and edit repositories
Check out the Organization article for information on how to create and edit repositories.