The Account details tab includes Account details, Payment Methods, and Billing address.
Account Details
The Account Details tab includes a Password Change option.
To change your password:
Enter your Current password in the space provided.
Enter a New password in the space provided.
Confirm the new password by entering it in the Confirm new password field.
Click Save Changes.
Payment Methods
If you have not yet set up payment methods, the Payment Methods tab will look like the example below: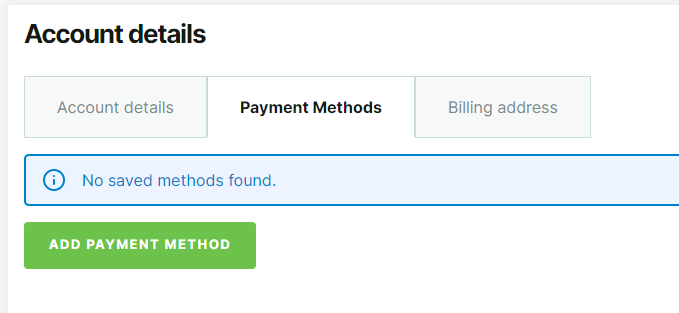 Click Add Payment method to add a credit card. meshIQ uses Stripe to process credit cards.
Enter the Card Number, Expiry Date, and Card Code (CVC) in the spaces provided.
Click Add Payment Method.

Billing Address
The Billing Address is used on the checkout page.
Enter the First Name and Last Name in the spaces provided.
Select a Country/Region.
Enter a Street Address, Town/City, State, and ZIP Code. The ZIP Code selection is validated based on the Town/City and State entries.
Enter a Phone number.
Click Save.