The Execute KSQL Query action is available from KSQL object viewlets. KSQL objects can be set up when on the KSQL tab when you create a Remote Kafka Manager Connection.
The example below shows a KSQL query being used to select from the Users table. To learn how to view a list of queries, see Read Queries, Tables, and Streams.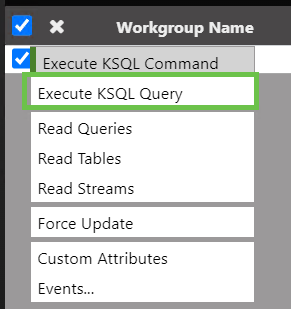 Execute a KSQL Query
To execute a KSQL query:
On a KSQL viewlet, click Execute KSQL Query on a KSQL object's action menu. The Kafka KSQL Query dialog opens.
Enter the SQL Command in the SQL field.
Click OK. The result of the command is displayed in the Response field.