Adding colors to viewlets helps you immediately recognize the nature of the data that you're looking at. You can assign colors at three levels:
by product
by viewlet type (object type)
for an individual viewlet
Activate colors
The first step is to activate colors by turning them on in your User Settings. Click

to go to User Settings, and select the Show Viewlet's Product's Color checkbox.
Remain in User Settings for the next step.
Set up colors
For each color choice below, you can choose to keep the default gradient (shown below on left), or select the Flat Color checkbox to apply a solid background color (shown below on right).
| | |
| --- | --- |
| Gradient (default) | Flat |
| | |
By product. In User Settings, select the Color Settings tab. To apply color to a product's viewlets, select its checkbox.
By viewlet/object type. Expand a product to view its viewlet types and choose colors for each one.
By individual viewlet. On the Create New/Edit Viewlet window, select the Custom Viewlet Color checkbox. Color choices here override those on the User Settings window.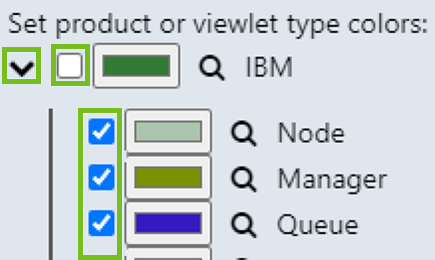 Refer to Configuring viewlet colors for detailed step-by-step documentation.