To rename a dashboard, do one of the following:
Right-click the tab of the dashboard that you want to rename and select Rename from the pop-up menu.
Click Dashboards… to open the Manage Dashboards dialog, select the checkbox for the dashboard in the Dashboard Name list, then click Rename.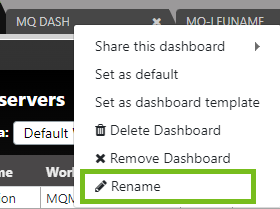 The Rename Dashboard window opens. Enter a new name for the dashboard and click Ok.

The dashboard is now renamed.