Navigator provides the ability to schedule actions for MQ and EMS objects. Actions can then automatically take place at a later time, such as during a change or testing window.
Actions you can schedule include creating, deleting, modifying, starting or stopping objects. Message actions such as loading messages to a file or clearing a queue can also be scheduled.
For the ability to schedule actions, your workgroup server must have the Job Scheduler Expert. Please see How do I install the Job Scheduler Expert for requirements and setup instructions.
Viewing an object's scheduled jobs
There is a clock icon next to the name of each object. The color represents the status of the object's scheduled jobs.

– no scheduled items found

– all scheduled items found are complete

– scheduled items are present and none are pending

– scheduled items include some pending authorization

– some scheduled items failed
To view an object's scheduled jobs, click on the object's green or orange clock icon. A window similar to the following screenshot opens, displaying the object's past and future jobs.

How to schedule a job
Select an object to open its pop-up menu and select the desired action you want to schedule. In the below screenshot, the Start Channel action is going to be scheduled for a channel.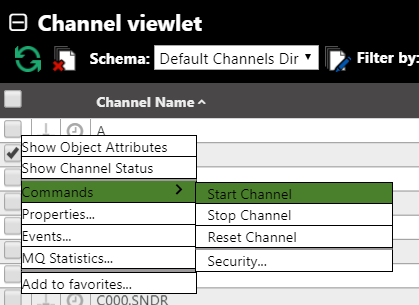 On the action window, click the green Schedule button.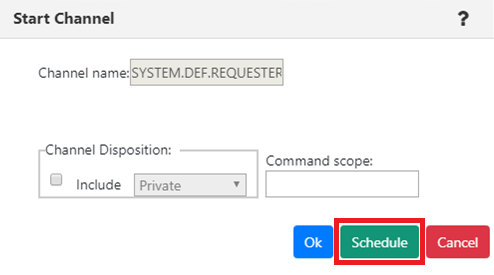 The Scheduler window opens. Enter the date and time. Specify a name for the scheduled job within the Tag for scheduled job field. Click Ok. The action is now scheduled.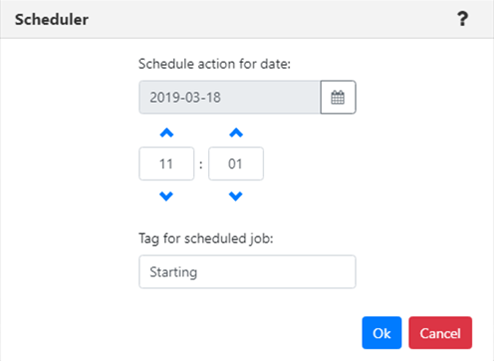 The object's clock icon will now appear green signifying that the object has a job scheduled.

Click the green clock to view the object's scheduled jobs. The Tags field displays the name you specified for the job when it was created. The Status field displays the status of the job; job's can have a status of Submitted, Cancelled, Success of Failure.

Viewing all scheduled jobs
All past and future scheduled jobs for all objects can be found by clicking the clock icon

from the toolbar at the top right of the screen.

The Schedules window opens. Use the Search field to locate a scheduled job by entering its tag name and clicking the Search for tag button.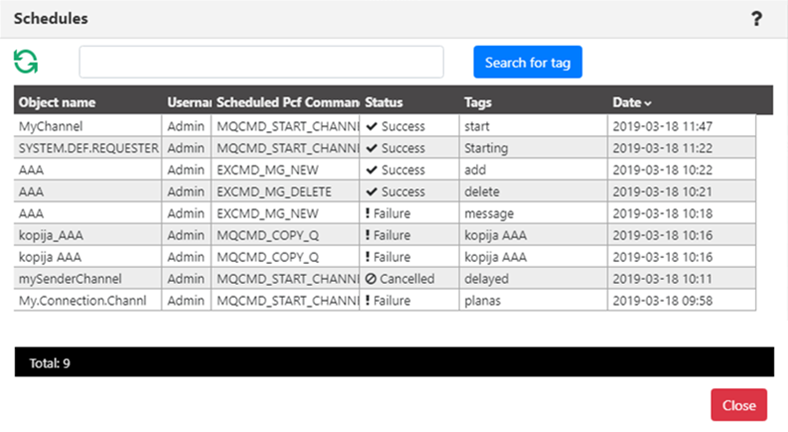 Select a scheduled job to open the Scheduled job info screen where all of the job's details are displayed.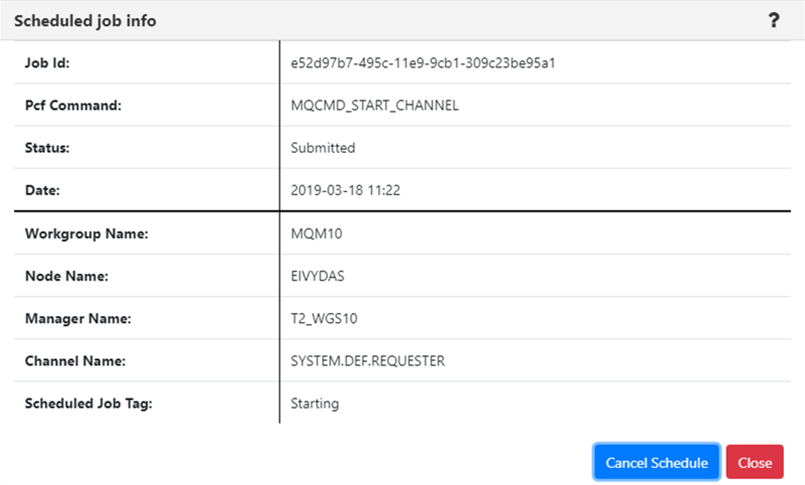 Cancelling a scheduled job
Scheduled jobs can be cancelled from the Scheduled job info screen displayed immediately above. Click the blue Cancel Schedule button at the bottom of the screen to cancel the job.