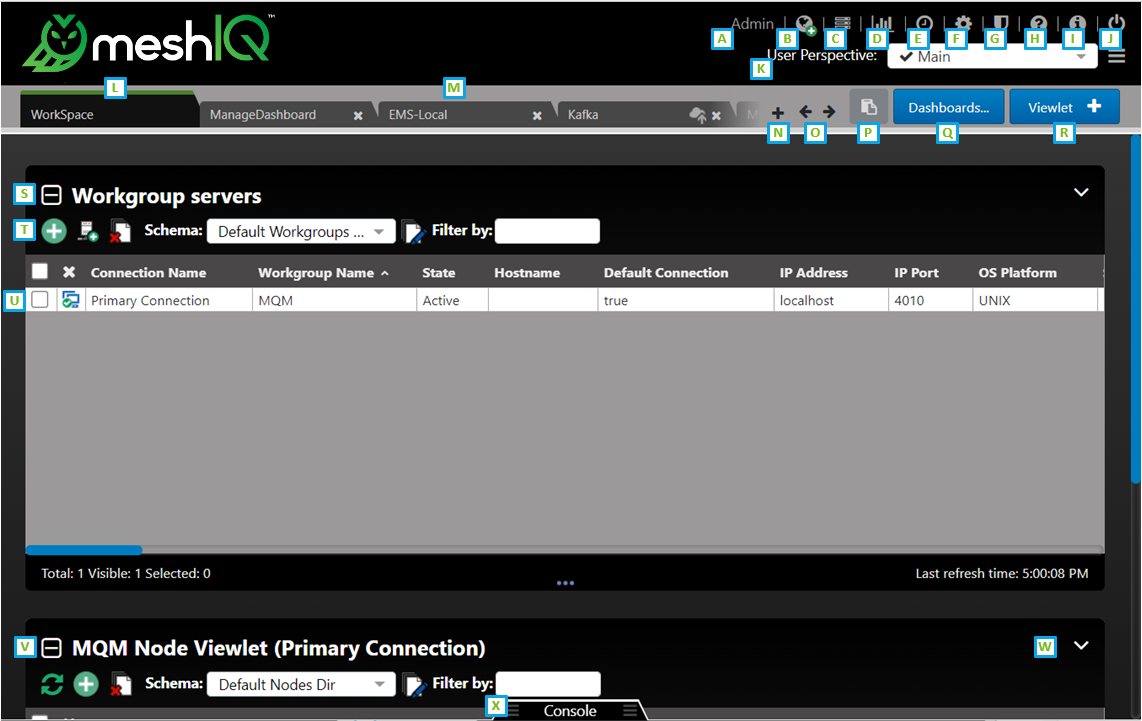 A: Username of the user who is logged in.
B: Connect: Reconnects workgroup server connections.
C: Request History button. Displays all running and completed tasks
D: Statistics: Run the Statistics Report to determine the most valuable features at your organization.
E: Schedules: View all scheduled jobs.
F: Settings: Click to display system settings. This is where user and message settings are configured.
G: Security Manager: Configure permissions for users.
H: Help: Opens the Resource Center or other online resource defined in your system's global settings.
I: Displays the version number
J: Logout button
K: User Perspective: Arrange related dashboards into views or "perspectives" for easy viewing.
L: Workspace dashboard. The Workspace dashboard is the default dashboard. It shows your connections.
M: Other Dashboards: Each tab represents a different dashboard.
N: Create Dashboard: Click the plus sign to create a new dashboard.
O: Scroll Dashboards: The left and right arrows display when there are dashboard tabs not visible in the immediate view. Click the arrows to scroll through the dashboard tabs.
P: Paste: Used when copying objects.
Q: Dashboards … button: Used to access Dashboard Management.
R: Add new viewlets: Click to create new viewlets.
S: Collapse: Click to collapse (minimize) viewlets.
T: Add button: Click to add objects to a viewlet.
U: Action menu: Select to display the object's action pop-up menu.
V: Expand: Click to expand viewlets.
W: Viewlet Menu: Gives the option to edit or delete a viewlet.
X: Console panel: Object details are displayed within this section.